With over three decades of PGA experience, Phil Curd is Bargara Golf Club's resident professional. Phil has coached player of all levels, from a US Open Ladies winner, Juniors, Beginners, and your regular golfer. Whether coaching and individual or in a clinic situation, Phil can assist you to reach your next level in golf.
Phil Curd
Club Professional - Bargara Golf Club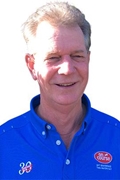 After playing on the"Tropo tour" as a young golf professional, Phil was asked to join the team at Kooralbyn Golf Resort under the guidance of the great Norman Von Nida where he honed his passion for coaching. The following years have seen Phil as Director of golf at Sanctuary Cove, co owner and head Professional at The Willows Golf Club. Finally coming home to Bargara where he has been the Club Professioanl for the last 20years.
Bargara Golf Shop /Professional Golf Services
120 Miller Street, Bargara
07 41592257
Tuesday

Wednesday

Thursday

Friday

Saturday

Sunday

9:00am - 5:00pm

9:00am - 11:00am

9:00am - 5:00pm

9:00am - 5:00pm

9:00am - 5:00pm

3:00pm - 5:00pm